Joseph Vaughan, Assistant Director of Laboratories, has overall responsibility for the day-to-day, operational procedures for our labs, including microbiological safety (COMS), radiation use, and controlled substances.
HSCRB's point of contact for Harvard's Environmental Health and Safety (EH&S) committee is Beverly Neugeboren, who helps our laboratories manage biological, chemical, physical, and radiological hazards proactively.
Safety Training
Contact

Joseph Vaughan

for EH&S laboratory safety, safety training and scheduling, and safety procedures in HSCRB laboratories.
Contact Beverly Neugeboren for EH&S biosafety, biosafety training and scheduling, and biosafety procedures in HSCRB laboratories.
Department Shared Equipment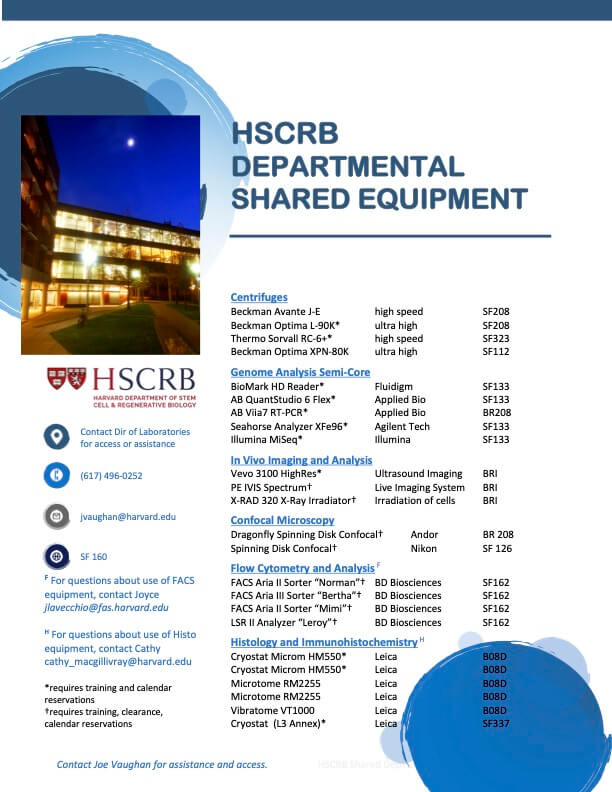 Storage and freezer services
HSCRB has temporary emergency back-up -80C freezers and short-term auxiliary freezer storage space for the laboratories.  Both -80C freezers can be reserved for two week periods on the reservation calendar.  HSCRB also has a -20C freezer that can be moved to labs for use during defrosting freezers. Contact Joe Vaughan for further information and access to reservation calendar.
Dry Ice
VWR Stockroom provides Dry Ice that is sold by weight in the basement of the Biolabs for emergencies and for routine lab needs.
Stockrooms
HSCRB scientists can access common reagents quickly. For example VWR has a supplied stockroom in the basement of the Biolabs and New England Biolabs has 24/7 stockrooms located on the Harvard Cambridge campus (NEBnow) and near the Longwood campus (HMS BPF NEBnow).
Waste
Biological waste disposal for laboratories in the Bauer and Sherman-Fairchild buildings is managed by Beverly Neugeboren, Laboratory and Biosafety Officer in FAS Environmental Health and Safety.
HSCRB Flex Rooms and Calendars
HSCRB provides flexible touchdown spaces throughout the department for all HSCRB members.  All spaces are available by reservation only.  Contact Joe Vaughan for access to reservation calendars.
All HSCRB Meeting rooms must be reserved prior to use.  Include Surname, lab and room number when signing up.
List of spaces and links to viewable calendars are below.
SF-G Ground Floor Admin Flex – SF-G58            
(1 cubicle in Admin office)
(2 cubicles in Admin office)
SF2 Admin Office Flex Space – SF 255                
(1 private office – limited access)
SF3 Touchdown Study Desks – SF300                
(4 desks in open shared office)
Core Facilities
Find out more about how we support our scientists through advanced instrumentation and technical consultation.
Administration
Our scientists are supported by administrative teams covering everything from grant support to research compliance.